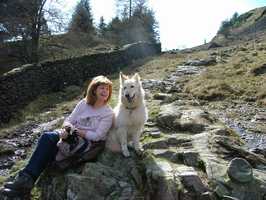 Once I started to paint animals and birds I didn't want to paint anything else!
To have such an endless supply of subjects, expressions and poses is just inspiring. Every living creature has a unique character and appeal of its own, and this is what I aim to portray in my artwork.

I am always on the lookout for that special quirky expression or pose that I can photograph for future reference in my studio. Friends send me their photos too.. so I always have a good supply! I then use my imagination to create a painting that depicts the nature of the animal I've chosen, with the intention of bringing a smile to the painting, which in turn is aimed at making you smile too..!

I hope you enjoy browsing through my website. Thank you for visiting..
Carolyn